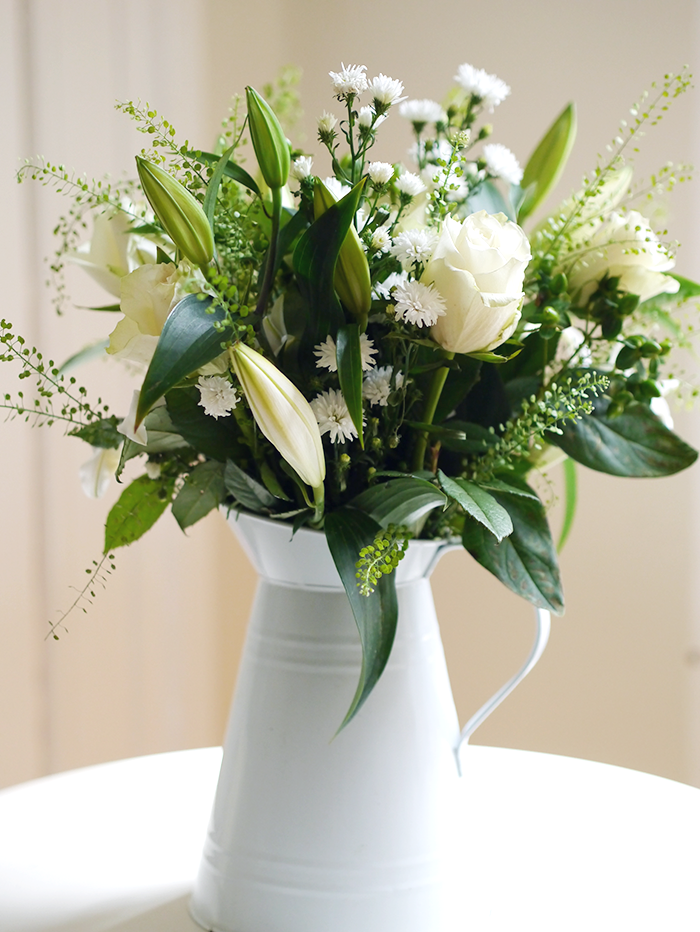 There's something about this time of year, isn't there? The days get a little bit longer, the sun a little more golden, and, suddenly, everything seems to be in bloom. There are leaves where you'd forgotten there once were leaves. Blossom spirals like confetti towards pavements and paths and great swathes of green grass. Gardens spring into life and even on a rainy day, spring seems lovely and new when there's a big bunch of freshly cut flowers on the coffee table.
Appleyard London sent me this beautiful Basil bouquet* using their
flower delivery
service and it has been putting a smile on my face all week. Pure white lilies fill the room with perfume and Athena roses intertwine with tanacetum daisies, shiny little hypericum berries and feathery greenbell. Part of the new The Pantry range, this bouquet is simple, classic and looks like it has just been picked straight from a country garden.
The bouquet arrived in a lovely branded cardboard box, and inside the flowers were safe and sound inside their cellophane wrap. All that was left to do was trim the stems and arrange the flowers and foliage in a vase. Did you know that metal vases can react badly with flower food? If you love vintage style metal jugs as much as me, here's a little tip to make you flowers last longer: place a large glass jam jar filled with water inside your jug and arrange your flowers inside the jar. Et voilà!
Treat yourself to your own bouquet of blooms with the discount code
BLOG33
to receive 33% off your order (excluding the bouquets in the
Flowers By Post
range).
Gillian x