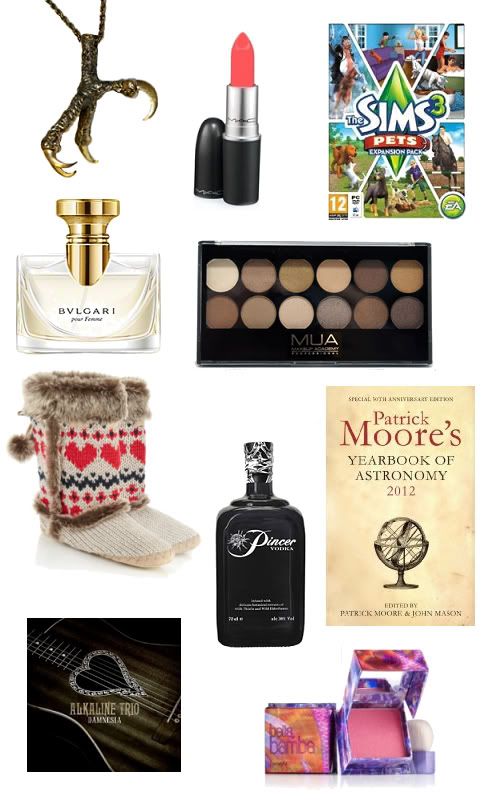 1.Eagle Claw Necklace 2.Vegas Volt Lipstick 3.The Sims 3 Pets 4.Bvlgari Pour Femme 5.Heaven & Earth Palette 6.Chunky Knit Slipper Boots 7.Pincer Vodka 8.Patrick Moore's Yearbook of Astronomy 2012 9.Damnesia by Alkaline Trio 10.Bella Bamba


Getting sick of these kinds of posts yet? Don't worry, it's just over a week until Christmas! When my mum asked me a couple of weeks ago what I wanted for Christmas, I was struggling to think of anything I actually needed/wanted. I do like getting presents, but sometimes it's easier just to get some money or gift vouchers and buy things you actually want in the January sales! This is definitely the reason I never ask for clothes as Christmas presents, I would much rather go shopping and choose something for myself.
As a blogger (and, you know, girl) some makeup was inevitably going to make its way onto the list. After buying my fist Mac lipstick a couple of months ago, I've fallen in love and I can see this being the start of a very long relationship. I was thinking of asking for the Naked Palette, but as I hardly ever wear eyeshadow I thought it seemed silly to spend so much money so I've opted for the bargain (and supposedly really good!) MUA Heaven & Earth palette instead. I also want to start experimenting with blusher more so have put down Benefit's Bella Bamba. I love their Dallas bronzer and use it every day, so I hope this is just as good!
I've run out of my favourite perfume, Bvlgari Pour Femme, so it would be great to replace it. I would like to try some new perfumes but last time I was in Debenhams I didn't really find anything I loved, so sticking with this old favourite for now.
I think most people hate getting socks or slippers for Christmas presents, but I secretly love it! I bought a Primark onesie last week which is amazing but sadly it doesn't have feety bits so I need something to keep my toes warm! I love these Accessorize slipper boots, they look super cosy. Just to remind myself I don't have to live my life in pyjamas and can actually be stylish sometimes, I've also asked for the eagle claw necklace from Bad Passion (see what I've already bought from the collection in
this post
!).
CDs always used to make up the biggest part of my birthday/Christmas lists when I was younger, so I've got to keep the tradition going with this Alkaline Trio album. Can't believe I haven't bought it already though - I am a total fangirl, they've been my favourite band since I was about 14! The Sims have definitely been on many previous wishlists too, and this year I'm asking for the latest Pets expansion pack for The Sims 3. (I really hope they do a Makin' Magic expansion pack one day, would literally MAKE MY LIFE arrgghh haha). As for books, I'd love this Yearbook of Astronomy (or the Wonders of the Universe book, might have to add that one too!) as I'm fascinated by all things cosmic. Wish I was better at physics so I could understand a bit more behind it, but I love stargazing and pretending to know what I'm talking about (got 2 space questions right on University Challenge this week, I think we all know that means I am an expert).
And keeping it classy, got to have a bottle of booze in there too - it's tradition! My flatmate and I have a bit of a collection of vodka bottles (empty of course, we're not
that
keen at collecting) so we're always on the look-out for interesting vodkas to try. I really like the bottle of this one plus it's made in Scotland so I had to put it down!
What's on your wishlist?
Gillian x