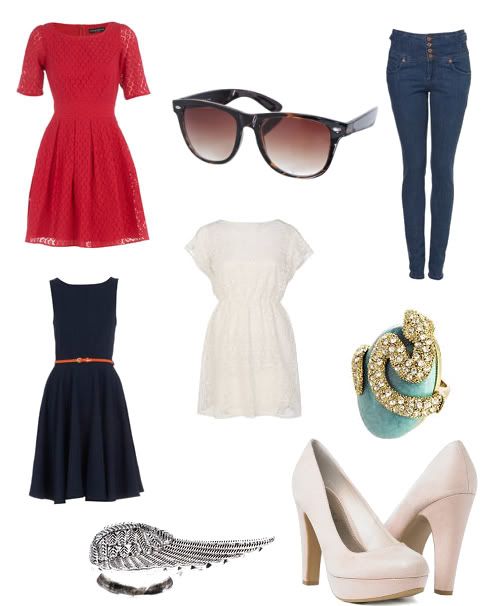 1.
Red Lace Babydoll Dress
2.
Tortoise Retro Sunglasses
3.
Kristen High Waisted Skinny Jeans
4.
Navy Linen Belted Dress
5.
Cream Chelsea Girl Waisted Dress
6.
Turquoise Stone Snake Ring
7.
Angel Wing Ring
8.
Winter White Platform Court
Just a quick post today as it's glorious sunshine here so I'm off outside in a bit armed with my notes and some highlighters to (hopefully!) do some revision for next week's exams.
I have got more than enough lace dresses but I love this red one from Dorothy Perkins, and the cream one from River Island would be perfect for lounging about in the sunshine with the tortoiseshell wayfarers. I need a pair of nude heels in my life as all of my going-out shoes are black, these ones from New Look are gorgeous. I also need a new pair of jeans and I love these Topshop high waisted skinnies. I'm a huge fan of the '50s style dresses that are around on the high street at the moment. Unfortunately this season's '70s trend really doesn't suit my figure, but the fitted '50s sundresses like this Dorothy Perkins one do! Rings are my favourite type of jewellery and this week I've got my eye on two more to add to my collection. I love the snake one, will be buying that ASAP!
What are you lusting after this week? I definitely need to stock up on some new summery clothes for this very unseasonal weather!
Gillian x