Like most bloggers, I love all things inspired by vintage fashions and styles. So when I recently came across the clothing line
Tara Starlet
I instantly fell in love.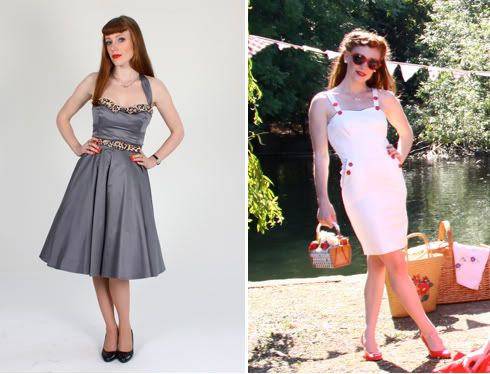 Vamp Prom Dress
&
Flower Button Dress
Tara Starlet is an independent fashion line run by a mother and daughter who share a passion for vintage style. Their pieces are inspired by everything from '40s screen sirens to '50s housewives and everything inbetween.
Gingham Prom Dress
&
Fifties Capri Pants
Tara Starlet also believes in the 'waste not want not' ethic of the post-war years, using end of roll fabrics and recycling buttons and trimmings wherever possible. Although not quite as unique as original vintage clothes, this does mean that the chances of someone having exactly the same dress as you are much slimmer than if you had been shopping in Topshop!
Belted Vixen Dress
&
Home Front Dancing Dress
With everything from cute playsuits perfect for picnics to pretty gingham dresses for frolicking in the sunshine, Tara Starlet has everything you need for a vintage inspired summer. If only I wasn't on a student budget, all these gorgeous clothes would be mine!
Side Button Skirt
with
Blitz Bodice
&
Polka Dot Playsuit
Gillian x