When I was younger I used to get lots of my clothes from George at Asda, probably because my mum hates shopping so spending an extra 15 minutes in the supermarket was much easier than spending an entire Saturday trailing around town with a 7 year old girl! Once I became a teenager, however, I stopped accompanying my mum on the 'big weekly shop', and now that I live in the centre of town there aren't even any large supermarkets near me. Having a look through the clothing sections on the websites of Asda and Tesco, two of the UK's biggest supermarkets, I think I might have to go on a mission to a store that stocks clothing as they have some great stuff for very reasonable prices.
In the past, supermarket clothing departments tended to be made up of lots of childrens clothes and mumsy blouses and knee length skirts. Now, they seem to cater much more for the teenage and twenty-something market, and many of the pieces wouldn't be out of place in Primark or New Look.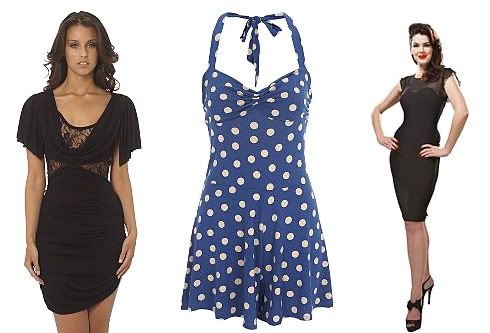 Perhaps it's a good thing my local supermarket doesn't have a clothing department, otherwise I would end up buying a new dress and a pair of shoes every time I went in to get a loaf of bread!
Do you ever buy clothes and accessories at supermarkets like Asda, Tesco or Sainsburys? Do you think supermarkets could become rivals to highstreet stores like Primark?
Gillian x
(p.s. this is my first attempt at a scheduled post - if all goes to plan this should be posted while I am staying at my friend's house, sleeping off all the vodka from the night before!)